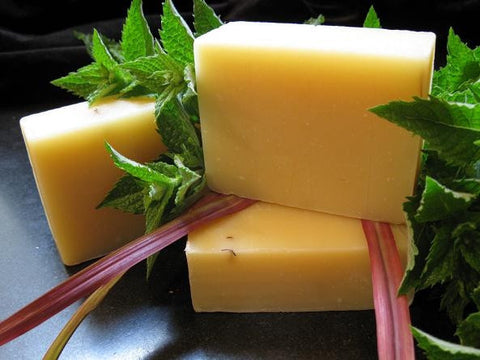 Lemongrass Tea Soap
Description
Certified Organic Soap made especially for us here at Farmhouse Memories. This natural bar boast the fragrance of natural lemongrass and offers many benefits to the skin.
Certified Organic
DON'T BE FOOLED!
Organic certification is the only way you can be sure a company's products truly comply with organic standards. No certification = No proof = Not organic.
Sales of organic products are on the rise, with growth rates averaging over 20% per year. Not surprisingly, many companies are trying to catch the wave by offering their own "organic" products for sale – so many that it can become unclear what the word "organic" means when it's used. And it raises the question: How do organic standards apply to soap and skin-care products?
The USDA's National Organic Program (NOP) provides the benchmark, global standard for defining organic. Within the NOP, there are three levels of certification. A product's classification is based on the total percentage of its organic ingredients (without counting water or salt). Here's what they mean, and then we'll discuss how the standards apply to soap and skin care.
Ingredients
Saponified oils of safflower* and/or sunflower*, palm*, and coconut* (with retained glycerin); essential oils of lemongrass, patchouli, rosemary, lime, sage, and bergamot; annatto seed*; rosemary leaf*; rosemary extract